"Trans" reviews and interviews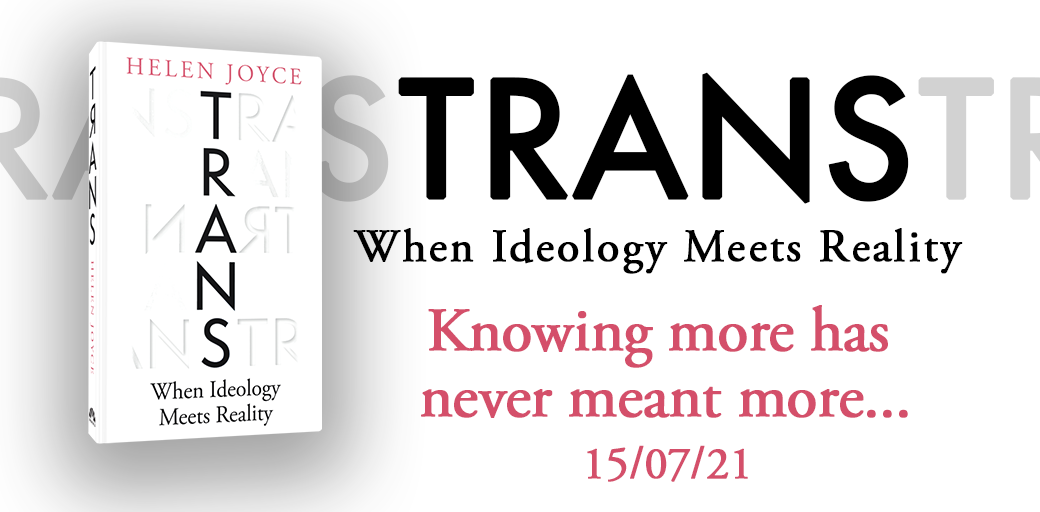 My first book, "Trans: When Ideology Meets Reality", was published by OneWorld in July 2021. It was an immediate bestseller and named by the Times, Spectator and Observer as one of their books of 2021. The paperback came out on May 5th 2022. It includes an entirely new foreword and afterword. An audiobook edition is also available, read by me.
When "Trans" came out, it was reviewed by a wide range of outlets and I embarked on a whirlwind of interviews for YouTube channels, podcasts and radio shows. If you're considering whether to take out a subscription to my newsletter, Joyce Activated, you can read what reviewers thought and watch or hear me being interviewed on a wide range of outlets, in order to get a sense of how I think and where I'm coming from.
---
Print reviews and interviews
The Evening Standard: A tour de force; July 12th 2021
This painstaking book is a must-read for anyone looking for a deeper understanding of trans activism, says Stella O'Malley.
The Times Book of the Week: Women exist! The facts of biology trump ideology; July 16th 2021
This rigorous and brave book nails the absurd idea that sex is just a "social construct", says David Aaronovitch.
The Telegraph: This is the book you need to read about trans activism; July 18th 2021
Helen Joyce's new book is a jaw-dropping look at a world gone mad, says Kathleen Stock.
The Guardian: Trans by Helen Joyce; Material Girls by Kathleen Stock; July 18th 2021
Two weighty books on the debate around gender-critical feminism and transgender rights strike different tones, says Gaby Hinsliff.
"Someone Has to Be the Someone", by Jane Clare Jones, The Radical Notion; Issue 4,  Summer 2021
The founding editor of this radical-feminist quarterly had a wide-ranging conversation with me about the impact of gender-identity ideology on feminism, the side-lining of embodied reality and reification of gender as an identity, the medical scandal of paediatric transitioning and much more.
The New York Times: Trans Rights and Gender Identity; September 7th 2021
"There is a difference between believing in 'trans rights' and believing in 'gender-identity ideology',"says Jesse Singal, a journalist who has done more than almost any other to cover trans issues intelligently and thoroughly. "That's the subtly important distinction that fuels Helen Joyce's 'Trans: When Ideology Meets Reality', a book that offers an intelligent, thorough rejoinder to an idea that has swept across much of the liberal world seemingly overnight."
New Statesman: How to talk about trans rights; September 15th 2021
This is a joint review of "Trans" and Shon Faye's "The Transgender Issue". The author, Sophie McBain, really didn't like "Trans", describing my tone as "harsh", "insensitive" and "unfortunate", and recommending that anyone who finds it at all convincing immediately reads Faye's book to correct their thinking.
New Statesman: Women are in a bigger fight than the suffragettes; September 29th 2021 (updated October 1st 2021 3:13pm)
In this interview with New Statesman staff writer Harry Lambert, I was able to explain my ideas without misrepresentation. It was commissioned to provide some balance to the one-sided review by Sophie McBain two weeks earlier.
---
Videos and podcasts
Unleashed: The Game-Changers, with Paola Diana; January 29th 2022
Diana kicks off the second season of her series by interviewing me about the harms done to children by gender-identity ideology, the impact on women's rights and what I think needs to happen in British politics to bring this inglorious episode to an end.
Keep talking with Dan Riley; October 29th 2021
In this interview I discuss the sterilisation of children, the cultural incentives that encourage kids to question their sex, the regret that many have after surgery and the public shaming of those who disagree with this activist ideology.
The Electric Agora; October 15th 2021
Daniel Kaufman, editor of the online philosophy magazine EA, and I talk about the history of transgenderism, how we got to a position where man and woman have become dematerialised identities, the use of postmodernist deconstruction in transactivist discourse, and my predictions for both Britain and America.
Conservative Party Conference in Manchester; October 3rd 2021
Journalist Julia Hartley Brewer interviewed me for an audience of party members, MPs and peers.
Baroness Emma Nicholson's webinar for parliamentarians; September 24th 2021
Lady Nicholson has been working for some time to the eyes of MPs and peers to the harms of gender-identity ideology. For this session I was among the guests, with Sonia Appleby, Kellie-Jay Keen (Posie Parker) and Graham Linehan.
Coleman Hughes: Demystifying Gender Dysphoria; September 24th 2021
Brilliant young American thinker Coleman Hughes, who remembers the early signs of the gender-identity revolution from his teens, asks me some questions he's been waiting to ask since he was 16.
The Femsplainers Podcast - What if Mother Nature Used He/Him Pronouns? September 21st 2021
Danielle Crittenden, the Femsplainer-in-chief, interviewed me about the trend to define sex by "gender identity" and not biology, and how that is leading to the erasure of women's rights on many important fronts. We also explored why so few people dare challenge this radical redefinition of what it means to be a woman, or indeed man.
Subversive: The Trans Takeover; September 19th 2021
Writer and cultural critic Alex Kaschuta invited me on for a wide-ranging conversation that covered trans medicine, John Money and the tragic case of David Reimer, how the UK became "TERF island", the plight of "trans widows", gender as performance or "sexed soul", the huge difference between trans-identified males and trans-identified females, and much, much more.
Gender: A Wider Lens; September 17th 2021
Gender-critical therapists Stella O'Malley and Sasha Ayad went into depth in this podcast in so many ways. We talked about traditional cultures' third genders, and how citing them as "trans" identities is a type of cultural colonialism. We also reflected on how America's tendency to double down on bad policies bodes ill for women's rights and children's wellbeing; and on the way in which, with luck, a grassroots feminist resurgence is bringing policy in Britain back onto a more sensible path.
In Conversation with Iain Martin; September 10th 2021
The editor of Reaction and I discuss the impact of gender-identity ideology on British politics.
Women's Voices; September 1st 2021
Genevieve Gluck, the creator of this radical-feminist podcast, asks me about the notion that biological sex is a social construct, the smear campaign against me and the powerful lobbying effort that has pushed gender-identity ideology onto the political agenda in many countries with unprecedented speed.
The Same Drugs; September 1st 2021
Canadian feminist campaigner Meghan Murphy and I discussed the origins of transsexualism, and why the assault on reality matters so much to women.
Benjamin Boyce: Calmversations; August 30th 2021
This is my third discussion with Boyce, and as always he found a new direction to take things, and new questions to ask in his ongoing search for a synthesis of the various strands of thinking about gender in the 21st century.
Chicago's Morning Answer; August 3rd 2021
A live interview on American talk radio, with particular emphasis on what is going on in schools.
The Mess We're In; August 1st 2021
Graham Linehan, Arty Morty, Helen Staniland and I discussed the reaction to the book, and what we all see coming next.
Savage Minds Podcast with Julian Vigo; July 29th 2021
I go into detail with feminist author and journalist Julian Vigo regarding some of the choices I made in my book regarding what to include and exclude, and the trickiest decision of all: why did I (sometimes) use pronouns of choice?
Knight Tube; July 29th 2021
Sceptic and atheist Stephen Knight and I discussed why so many so-called sceptics have fallen hook, line and sinker for a cult-like belief system.
Spiked Online Podcast: The trans war on reality; July 29th 2021
I joined the editor of Spiked, Brendan O'Neill, to discuss the totalitarian nature of trans ideology, the abuse experienced by detransitioners, and the societal and scientific reasons for excluding males from women's sports, prisons and changing rooms.
The Ayaan Hirsi Ali Podcast; July 22nd 2021
One of my personal heroes interviewed me about the rapid rise of gender-identity ideology, the differences between America and Britain, and where I see it all going.
Sex Matters: In Maya Forstater; July 22nd 2021
The first-ever Sex Matters event, live online for Super Supporters and available to watch back for everyone.
Free Speech Nation with Andrew Doyle; July 17th 2021
In this long and lively interview, Andrew and I went into detail on many aspects of gender-identity ideology, in particular the multiple definitions of "gender".
The Critic podcast: Debunking Trans ideology; July 13th 2021
An interview with freelance journalist Jo Bartosch that focuses on the ways in which transactivism harms young gay people.
A Woman's Place is keeping it real; July 13th 2021
In this live digital pre-launch event, Guardian journalist Susanna Rustin interviewed me about why I wrote "Trans" and how it fits into a broader feminist resurgence.